Creatures
Lying Figure (Patient Demon)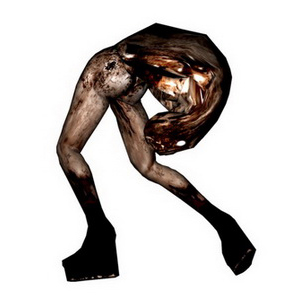 Locations: South Vale, Wood Side Apartments, Blue Creek Apartments, Historical Society, Toluca Prison, The Labyrinth
Description: This is the first demon James encounters. Patient Demons have two attacks in different stances. When the demon is standing up it will attack by spitting a yellow acid-like spray at James, which stuns him. When the demon is face down on the ground, the attack will be scrambling towards James and hitting him, which inflicts mild damage. When you encounter Patient Demons, use the Wooden Plank or Steel Pipe if your ammo is scarce. If not, use the Handgun. Knock the demon down to the ground by hitting it with a melee weapon or shooting it down with the Handgun, and then finish the demon off by kicking it once. If you do not kick the demon when it is on the ground it will get back up and will have nearly full health. So make sure you always kick the demon when it's on the ground. This goes for all demons, unless they die before you get a chance to kick them, or if you can't kick them at all (for example, if one was behind bars). If you do not want to fight a Patient Demon, just run away. If you are in a dark area you may be able to walk right by them without them knowing you are there.
Creeper (Giant Roach)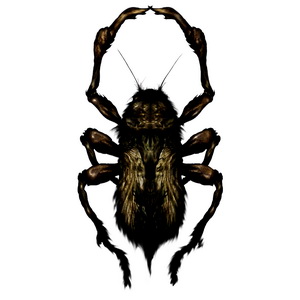 Locations: East South Vale, Wood Side Apartments, Blue Creek Apartments, Dark South Vale, Historical Society
Description: You can hear a Roach by listening for a buzzing/cricket sound. A Roach has one type of attack. It will run towards you and will bite James' foot. To deal with a Roach, simply run away until it's gone or just run at it so that James' heel of his shoe will crush it. But if it is really annoying you, use the Handgun - 1 or 2 shots, then kick it if necessary. If you're in an open area like the streets, Roaches will try to run away if you're not that close to them. But if you're in a small area, it's very likely that they will try to attack you.
Mannequin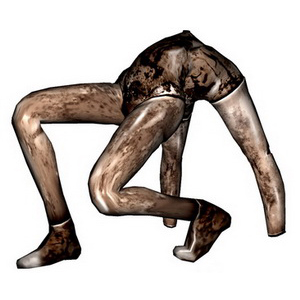 Locations: Wood Side Apartments, Blue Creek Apartments, West South Vale, Brookhaven Hospital, Nightmare Hospital, Dark South Vale, Lake View Hotel
Description: Mannequins have only one attack. Their attack is at extremely close range, so they're pretty easy to get by. Their attack is whacking James with one of their arms/legs. This attack is powerful so stay away from Mannequins. Don't worry about using a melee weapon on them, but don't under exaggerate them. If you have a lot of ammo, use the Handgun to deal with them.
Bubble Head Nurse (Nurse Demon)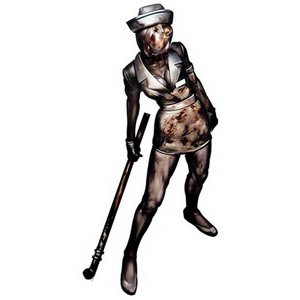 Locations: Brookhaven Hospital, Nightmare Hospital, Dark South Vale
Description: Nurse Demons are only in Brookhaven Hospital and on the nearby streets, so you don't have to worry too much about encountering them. Nurse Demons carry steel pipes very similar to James'. They have two attacks; swiping or thrusting James with their pipes. Both inflict quite a bit of damage. The Nurses may attack you from further away than you think, so be careful. If there are two Nurses close to each other, in front and behind, there is a very good chance that the Nurse behind will whack the Nurse in the front, just trying to hit you, even if you're somewhat near them. To deal with a Nurse, use the Handgun. But if you are low on ammo use the Steel Pipe, but beware that your range just a bit larger than the Nurses', as the weapons are similar.
Mandarin (Underhanger)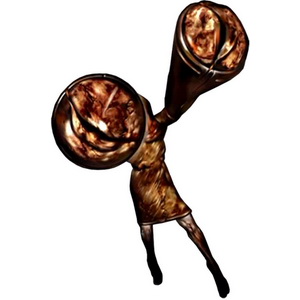 Locations: Grate floors - Dark South Vale, The Labyrinth, Nightmare Hotel
Description: Underhangers are found only under grate floors. Their attack is shooting tendrils at your feet with their huge arms, if you are above them. This will stun James. When you encounter a lair of Underhangers just run over them, dodging their attacks, and look for safe spots where they can't attack you. Attempting to kill an Underhanger is a waste of time, so just run past them. But if you want to kill one just for fun, use the Shotgun. Since you can't kick it, it will fall off the grating once it takes enough hits.
Flesh Lips (Hangers)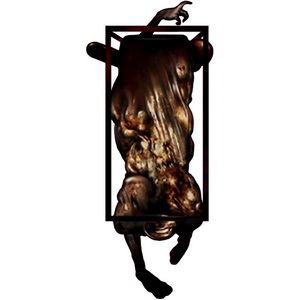 Location: Brookheaven Hospital
Description: Creatures trapped in metal frames like cages that appear hanging. They attack by grabing their victims with their legs, the only part of their body that is exposed. Their form looks like a sadistic intepretation for a death bed and the mouth might represent Mary.
Abstract Daddy (Doorman)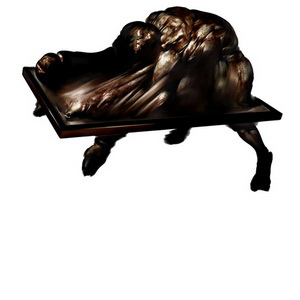 Locations: Lake View Hotel (Boss: The Labyrinth)
Description: The attack range of a Doorman is pretty big, so be aware! Its only attack is grabbing James and pulling him under its frame. This will inflict a lot of damage. Use the appropriate buttons on the controller to get out of the attack. When you encounter a Doorman, use the Shotgun as its range and power are great. After a Doormen is on the ground, make sure to kick it or it might get up and have nearly full health. If the Doorman dies before you kick it, it's dead. This usually happens when you use the Shotgun, which is a good thing. The boss Doorman is much stronger than normal Doormen, so don't be afraid of them. But also make sure to don't let them get too close.
Red Pyramid Thing (Pyramid Head)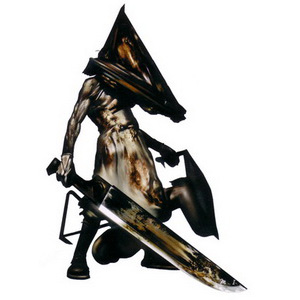 Locations: Wood Side Apartments, Blue Creek Apartments, Brookhaven Hospital, Nightmare Hospital, The Labyrinth, Nightmare Hotel
Description: This bizarre pyramid-headed creature is James' worst nightmare! It's invincible! James encounters Pyramid Head many times in the game and always ends up not killing it. In a boss situation, beware of Pyramid Head's long-range attack with his Great Knife or Lightweight Spear. When you encounter Pyramid Head and it's not a boss situation, just run away since Pyramid Head is invincible.
Mary/Maria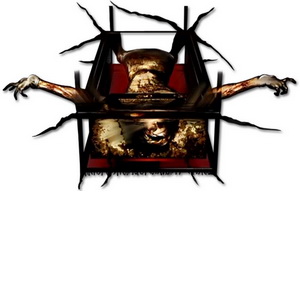 Location: Lake View Hotel.
Description: A creature that is trapped in a metal cage hanging in the air upside down. Attacks with tentacles that emerge from her mouth and from time to time unleashes swarm of black "butterflies". Depending on the final the creature may be the true form of Maria (a being conjured by James' guilt for killing his wife) or a representation of Mary (the manifestation of James' memory of his wife). In either case the creature looks the same.
by Conquerer & Yahzee Skywalker