Interview with Heather Morris (Heather Mason in Silent Hill 3) (The Gaming Liberty)
Date published: 2012.01.01
Source: The Gaming Liberty
Hi all, Retroplayer here. Since the release of Silent Hill 3, gamers have praised the performance of Heather Morris, the voice actress that brought life to its main protagonist, Heather Mason. However, what added to the mystique of Morris's performance was that after Silent Hill 3 she, to many gamers, seemed to vanish. In this modern age we assume that it's easy enough to contact just about anyone. But for legions of gamers they had no way of giving their thanks, and interacting with someone they simply appreciated. The worst part of all of this is for fans to assume this was done intentionally. In fact, as you'll read in this interview Heather wasn't aware of her impact on the gaming scene.
You know, in the past few months there have been communities of gamers trying to find Heather. From normal gamers to downright creepy Facebook Pages, it seems that some kind of "hunt" has begun to find her. Well, she's found. But I started my journey to find her long before the masses on Facebook assembled, long before many simply wanted her to sign off on Silent Hill 3 HD. I wanted to find Heather for a number of reasons, most of all for her to basically tell her own story. Heather was an absolute joy to chat with and came across as such a nice, genuine and engaging person. I really want to thank Heather for doing this interview as it truly is one of a kind. Her story is indeed quite interesting, and the journey for me to bring you that story has been very, very long.
Feel free to comment as I'm sure Heather would love to get some feedback on her role in Silent Hill 3. Enjoy!
———————-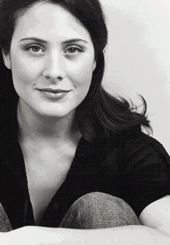 Retroplayer: First off, tell us a little about yourself Heather.
Heather: I grew up in a small town in Upstate New York with my fabulous parents and wonderful older brother. I began dancing at age 3 and studied classical ballet my whole life and grew up performing in several capacities. Between high school and college, I spent one year as an exchange student in Brazil. I then moved to New York City, where I went to college, studying both economics and dance. A strange mix I know, but I loved the arts and I was also a serious student.
After college, I began auditioning for both dance and acting jobs and joined a dance company that went to South Korea for 3 months. When I returned to NYC, I continued studying at an acting school in the West Village and auditioning. Shortly after, I began to get interested in producing theatre myself, as my background in business was an asset. I found it extremely gratifying to be both on stage and working on the production team. At this point, my boyfriend's (now fantastic husband) job moved to Tokyo and I was offered the opportunity to go along. While in Tokyo, I did several modeling jobs, TV commercials and, of course, the Silent Hill 3 video game. We lived in Tokyo for a year and one half and then moved to Germany for almost a year. I switched gears at this point and worked as a volunteer broadcast journalist and copy writer at the American Forces Network, a US Army run radio station. When we returned to NYC, I decided to tie together all of my creative interests with my business skills and did a Masters program in Arts Administration. After this program, I worked in Off Broadway Theatre as a marketing director.
Retroplayer: Prior to landing your role in Silent Hill 3, did you have an acting background? If so, tell us a little about it.
Heather: As I said above, before moving to Japan, I was studying theatre and pursuing an acting career in NYC. I had worked on several great theatre projects and had done some small parts in independent films, and on TV.
Retroplayer: Heather, was Silent Hill your first videogame role? From what we understand, you appeared in the Xbox title Murakumo: Renegade Mech Pursuit. What were you first impressions of the world of videogame voice over?
Heather: Actually, Silent Hill 3 was my first videogame role. Jeremy Blaustein brought me in to do the voice over work for Murakumo after having worked together on Silent Hill. Murakumo was a much smaller job, just working on the voice recordings and not doing any motion capture. I felt very fortunate to have the opportunity to play the lead role in Silent Hill, as it afforded me the rare opportunity to see what goes into producing video games. I was truly impressed with the calibre of talent and creativity of the artistic team. It is such an elaborate process and so much work went into creating this world around me.
We spent the first several days capturing all of my body movements, from walking forward and backward, to jumps, leaps, hops and dives of various size and forms. We spent hours just having me move my head and tilt it, which was necessary in creating a realistic physical character foundation. As a kid, I trained in Tae Kwan Do, so I actually had a pretty good grasp of the martial arts and combat movements, so that helped.
Retroplayer: Was it something your ever planned to break into or did you happen upon it by accident?
Heather: I am not a video game player, so to be honest, I had no idea that this world even existed. I had been working in Japan for over a year and had done lots of print work and some TV, but this was the first voice over job I had been submitted on. It was just good luck that my agent submitted me on this particular project.
Retroplayer: How did you land your role as Heather Mason in Silent Hill 3?
Heather: I believe my agent submitted me for the job and that I was pre-selected to audition based on my photo and resume. I was not given much information about the project prior to arriving at the actual audition. When I got there, there were several other girls who I assume were also auditioning for this part. We were provided with several scenes from the script and were given a few minutes to prepare. If I recall, I was asked to read some of the more intense scenes. I was also asked to perform some mock fight scenes, which was hysterical in my high heeled boots. It was a fun audition and I read my scenes with Jeremy.
There were many people from Konami there, including the director, producer, and several members of the creative team. I remember that after my audition, they were talking among themselves about my name "Heather". They asked me if that was a common American name and talked about changing the character to be called "Heather." I think the original name was "Helen" but I cannot remember for sure. I believe I got the call that night that I landed the role and they asked me if I would mind if they named the character after me. I didn't realize that they were going to use my last name as well.
Retroplayer: Were you aware of the Silent Hill franchise prior to landing the role, or was it something you needed to get filled in on?
Heather: I actually had no idea that this was such a big thing. As I said before, I was totally oblivious to the world of video games and did not know that these games took on such a life of their own. I had to get caught up on what the premise of the game was and how my character fit into this whole world.
Retroplayer: How do you view Heather as a character? How did you approach her portrayal?
Heather: Compared to other acting jobs, I had relatively little time to prepare before we began shooting. The first series of scenes we shot were those with my father. The actor who played him, was really fantastic to work with. He and I talked through the relationship and tried to break it down in the limited time we had. I liked the character Heather. She is sort of a bad-ass and a bit of a tomboy. Although she was very young, she was quite fearless and strong.
Retroplayer: As an actress did you respond well to the script? Compared to Murakumo was the story and writing a big step up in terms of substance and character development?
Heather: I did respond well to the script. Heather was really interesting and a great character to play. It was a bit different from a traditional script, as the plot and different scenes are rewards to the player. So I had to figure out the puzzle of this character myself and try to get a handle on the sequential story. It was not as straight forward as it would have been if it were a play or movie.
This project was so much larger in scale than Murakumo, at least with respect to my role. With Murakumo, we really just went in and did the voice over work. There wasn't much prep for the actors. I don't believe I was given the entire script, so I cannot really comment on the writing as a whole.
Retroplayer: The Silent Hill series has always dealt with quite disturbing and violent themes, Heather. As an actress did you need to engross yourself in the story or, due to the disturbing nature of it, find it unnecessary to get too wrapped up in the world of Silent Hill?
Heather: I think in this instance, innocence is bliss. To be honest, had I known that this was such a violent and disturbing video game before beginning the project, I might have hesitated in accepting the role. Much like the character, Heather, I was learning about all the horrendous things in this video game world as I moved through it. So I was genuinely surprised and disturbed. Very often I would ask to stop the motion capture so we could look on the computer at the images that represented the monsters and people with whom I was supposed to be interacting. And they were creepy and quite scary. Since we were working on a blank stage, we really need to use our imagination.
Retroplayer: With both the voice over and motion capture you were directed by the great Jeremy Blaustein. Give us an insight as to how he directed you in both instances, Heather.
Heather: Jeremy and I had a great working relationship. He is a really nice guy and we had so much fun working on the project. It was a very collaborative process and there was a lot of discussion around the emotional direction of the characters. As this was my first motion capture work, Jeremy was extremely helpful in explaining the needs from a video game logistical perspective. For example, there needed to be enough spacing in the dialogue to accommodate subtitles. Without proper explanation or direction, this could have been quite awkward. By the time we actually got into the voice over booth, Jeremy and I had a spent a good deal of time together and could see how the project was shaping up. There were definitely funny moments, particularly with the recording of all of the required stock sounds, i.e. the sound you make when getting hit, when doing the hitting and the less glamorous elements like vomiting and choking. We had to edit out a lot of laughs.
Retroplayer: As I just mentioned you also provided the motion capture for your character in Silent Hill 3. Even today most developers use different actors to provide the motion capture for characters than the people who actually provided the voice. Because you were both Heather in both voice and body, do you feel this helped your performance? If so, how?
Heather: I couldn't imagine doing a project of this scale and only working on one or the other side. In my opinion, the real character work took place in the motion capture studio. That is where the physical and emotional foundation was established. The choices I made in the motion capture booth, informed the choices I made in the sound booth. Also, the motion capture was extremely fun and I would not have wanted to miss out on it. It was actually a really great fit for me. I am a very physical person and since I spent my entire life as a dancer, emotion is very linked to movement.
Retroplayer: Give us an idea of the motion capture process went, Heather.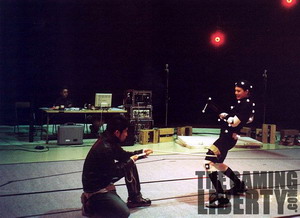 Heather: The process was quite elaborate. Every day, I would be dressed all in black tight clothes and then dozens of motion sensors, which essentially looked like little silver ping pong balls, would be attached to my body and head. As I said, we spent the first several days just focusing on small movements, walking, running, arm and head movements, and breathing. It was essentially a tedious warm up to the more physically demanding parts like climbing scaffolding, jumping off various height objects, and fighting with monsters of all shapes and forms. Some of the necessary movements were harder to capture than others. And we used several different techniques for making the movements realistic. I have a specific memory of having one of the members of the creative team wrap a bungee cord around my leg and pull me from a low angle to simulate a dog tearing at my thigh. (see image below. click to enlarge)

After we had my character's body movements covered, the other actors came in and we started working on the action associated with the script. We marked out all of the placements, and started working on the dialogue. Physical positioning is particularly important with video characters, as there needs to be ample space to allow for the motion sensors, but the characters need to look natural with respect to one another.
Retroplayer: Since the release of Silent Hill 3 have you ever been recognised as the voice of Heather Mason? Did you have any idea of how big the game had become?
Heather: I had no idea this game would be so big. I was so disconnected from the world of video games, that it really wasn't until I started telling some friends who are really into the gaming world about this job and they would freak out! Occasionally it will come out when talking to someone who is a fan of the series that I am the Heather Morris, from Silent Hill 3 and people get really excited.
As embarrassing as this may sound, I am so bad at playing video games that I have never been able to get out of the first room in Silent Hill 3. So I have never actually seen any of my own work in this game. The most I have experienced was seeing my character run into the wall because I can't get out of the room! One day, I will have to watch while someone who knows what they are doing plays though the whole thing. It would be great to see!
Retroplayer: At this point in your life what is your main source of inspiration?
Heather: I live in an amazing city and am surrounded by truly wonderful and creative people. New York itself is a constant source of excitement and inspiration. However, at this point in my life, my true muses are my two beautiful children.
Retroplayer: Since leaving the town of Silent Hill what have you been up to Heather?
Heather: As I said above, shortly after I worked on Silent Hill, I moved to Germany for another year and then back to NYC. I have been extremely fortunate to have the opportunity further my studies at a top university and work at some of the great arts institutions her in NYC. But most importantly, for the past few years, I have had the opportunity to focus on my young family.
Retroplayer: Many gamers out there would have loved to see you in more videogames, Heather, as Silent Hill 3 clearly showed your talent of being able to totally inhabit a role. Is voice over for videogames something you may ever return to at some point?
Heather: Thank you for the compliment. Yes, I would love to work on another video game if the right project came up. We left Japan shortly after I recorded Silent Hill and since I have so many other interests, I just moved onto the next thing. I had no idea that this would be so well received. Had I known there was such support and interest, I surely would have continued to pursue this line of work. This was a great experience and I was truly impressed with all of the talented people with whom I worked. It would be great to work on another project at some point.
Retroplayer: What's next for Heather Morris?
Heather: I am constantly taking on new creative projects, from producing multi-disciplinary arts collaborations, to painting, to supporting community arts initiatives. I will continue to explore whatever new and exciting opportunities present themselves.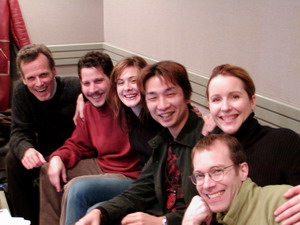 Retroplayer: Heather, since its release Silent Hill 3, and the character of Heather Mason herself, has gained quite a large fan following. Because this is your first interview do you have a message for your fans out there who from first playing Silent Hill 3 back in 2003 have appreciated and enjoyed your work?
Heather: I am truly thankful and honored that people appreciated my work on Silent Hill 3. I am happy that Denis Murphy put in the effort to find me and invite me to share my experience. I only now became aware that they were re-releasing Silent Hill 3 and I had not been contacted by anyone from Konami about the possibility of re-recording. It is unfortunate, as I would have loved to be involved in the project. I hope that all the fans out there enjoy the new actress's portrayal of Heather as much as they did mine and enjoy playing the game. Thank you all.