End Title Sequence
Original article by: Watch the Titles
The end title sequence of Silent Hill: Revelation, featuring creatures from the film, the Nurses and the Spider Monster as well as the Missionary, was directed by French motion designer Kook Ewo, with 3D animation and visual effects provided by Chez Eddy.
Kook Ewo: "The concept behind the titles was to slightly break the grammar of this kind of  'violence scene' by creating a beautiful, slick and 'sexy' moment in a surgery room."

Stills from the end title sequence
Producing a Full CG, Stereoscopic Sequence in One Month
According to Kook the biggest challenge when making this sequence was the time. "We did a 2'30" sequence in one month, full CG, stereoscopic. Epic!"
"The production process was pretty unusual this time. I did a first proposal in which the camera was carried, crushed, pushed and thrown by creatures in a rollercoaster sequence."
Pages from the storyboard from the initial concept

"We made a test with Chez Eddy –which is the last animated shot you see in the final title sequence– and everybody loved it. Then for different reasons, we ran out of time and I was asked to find another idea."
Silent Hill Revelation, storyboard version 2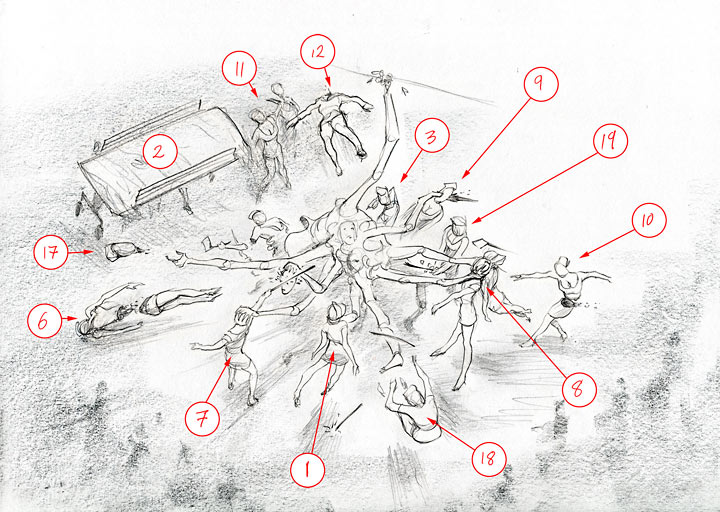 Over the weekend he write down twenty shots, so Chez Eddy's line producer Davy could use what little time he had to quantify all the work for each shot. Kook then picked 7 shots to present to the producers on Monday morning. "The 7 shots I chose all got the green light. On Tuesday we began to make the previz (animatic of camera motions and poses), so we could show it to the production next Monday...
"Then four weeks of hard work with a great team of 12 to make the light and renders. I came over to validate shots two or three times a week."