Information
Silent Hills
Developer: Kojima Productions
Publisher: Konami
Release date: cancelled
Platform: PS4
Official site: www.konami.jp/pt (P.T.)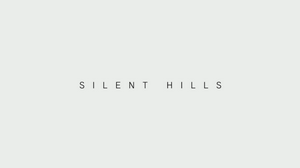 Silent Hills was a planned next Silent Hill installment developed by Kojima Productions using their Fox Engine. It was being directed by Hideo Kojima (Metal Gear Solid series) and film director Guillermo del Toro, and starring Norman Reedus (Walking Dead).
Silent Hills was officially cancelled on 27 April 2015.
Trailer
P.T.
On August 12th, 2014, Sony released an interactive teaser P.T. by fake developer 7780s Studio which was made available in PSN exclusively for PlayStation 4. After you manage to complete P.T., its true identity is revealed in a form of a teaser of the new Silent Hill title. The demo is a new concept and has no direct relation to the main title.
Notes:
- P.T. stands for "Playable Teaser"
- 7780s is an encryption of "Silent Hills". Japanese prefecture Shizuoka can be literally translated as "Silent Hill" ("silent" is "shizuka" and "hill" is "oka"). The area of the prefecture is 7780 km².
- Guillermo del Toro and Hideo Kojima collaborated with the famous Japanese horror manga artist Junji Ito while working on Silent Hills.
Credits
Tsutomu Kokufu
Masahiro Nose
Shota Hirasawa
Shogo Asai
Koichiro Ito
Nobumitsu Tanaka
Youngho Kim
Takayuki Aoki
Takashi Nakagawa
Akihiro Teruta
Hiroyuki Nakayama
Shunsuke Kanikawa
Ludvig Forssell
Akira Kanke
Shintaro Naka
Jorge Lescale
Yasuhiro Ikoma
Soojin Kim
Masayuki Suzuki
Keiichi Kono
Masakazu Kato
Ken Mendoza
Kohei Tsuchiya
Kenichiro Imaizumi
Articles