Silent Hill: Dying Inside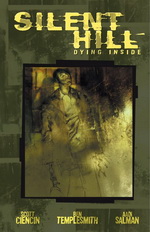 Region: USA
Release date: 2004.02–06 (issues), 2004.08 (TPB)
Publisher: IDW Publishing
Writer: Scott Ciencin
Interior art: Ben Templesmith (#1–2), Aadi Salman (#3–5)
Cover art: Ashley Wood, Masahiro Ito, Atsushi Tsujimoto
A film student returns from a filming trip in the abandoned town of Silent Hill and is suffering from delusions. Sought out by a colleague for help, a psychiatrist takes the girl back to Silent Hill, hoping it will shake the girl from her condition. Both the student and doctor disappear, but the girl's footage falls into the hands of a punk rocker and her gang of friends. The group heads to Silent Hill, though they have little clue as to what waits for them there.
Silent Hill: Dying Inside #1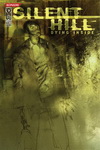 Release date: 2004.02
Troy Abernathy doesn't believe in ghosts or demons, except those of the mind. The glory-seeking doctor's world is shattered when he brings patient Lynn DeAngelis to Silent Hill. There they confront the source of her seeming delusions... and find themselves trapped in a realm of unspeakable terrors!
Silent Hill: Dying Inside #2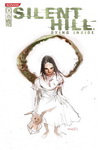 Release date: 2004.03
Trapped in Silent Hill, psychiatrist Troy Abernathy and his patient, Lynn DeAngelis, fight for their lives against a horde of seemingly unstoppable demons and monsters. Forced to confront the murderous ghosts of his own dark past, will Troy find redemption, damnation, or both? And who is the demon-child Christabella really after?
Silent Hill: Dying Inside #3
Release date: 2004.04
Variant cover: Masahiro Ito
Panks group with their leader Lauryn finds a strange tape from Silent Hill with monsters. Lauryn doesn't take it seriously and they travel to Silent Hill with a plan to make it a place for tourists. But demons of Silent Hill are real and they'll see it themselves really soon.
Silent Hill: Dying Inside #4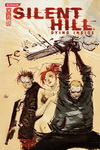 Release date: 2004.05
Will it be survival of the fittest – or the most ruthless – as the demon-child Christabella and her Goth sister Lauryn go to war? The monster-filled streets of Silent Hill become a battlefield as startling revelations are made and the souls of a dozen innocents face damnation and worse.
Silent Hill: Dying Inside #5
Release date: 2004.06.16
Variant cover: Atsushi Tsujimoto
What would you sacrifice to gain absolute control over your own destiny? The lives and souls of those who love and trust you? The future? A war rages in the demon-infested town of Silent Hill, where seventeen year-old Goth Lauryn must make a decision that may forever alter the course of this unholy place – and one day loose Hell itself upon the world.
Silent Hill: Dying Inside TPB
Gallery
Sketch Covers (Ashley Wood)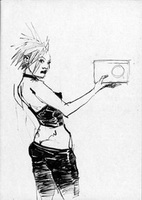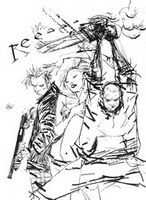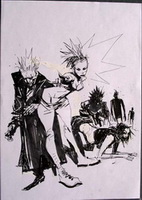 Sketch Pages (Ben Templesmith)
Issue #1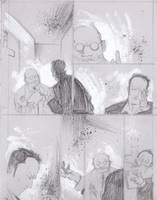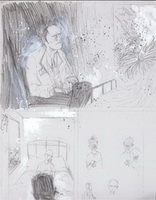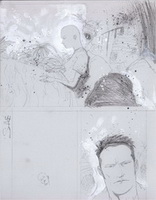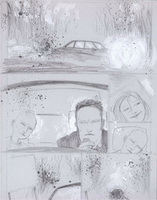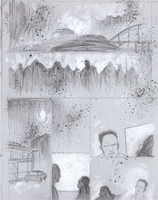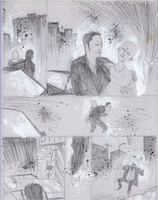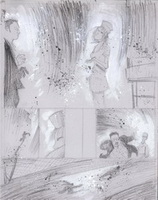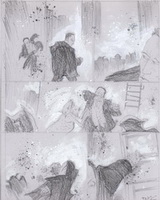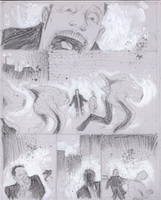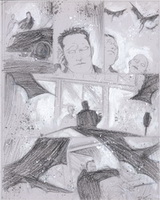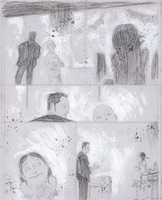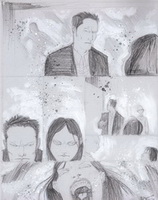 Issue #2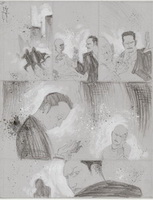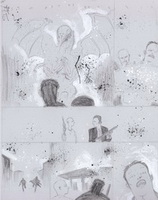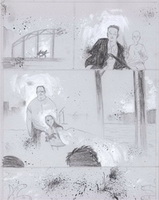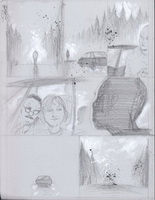 Localizations