Silent Hill: Three Bloody Tales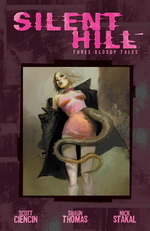 Region: USA
Release date: 2004.10–2005.06 (issues), 2005.09.28 (TPB)
Publisher: IDW Publishing
Writer: Scott Ciencin
Interior art: Shaun Thomas, Nick Stakal
Cover art: Ashley Wood, Nick Stakal, Ben Templesmith, Alex Garner
Three Bloody Tales is a series of three one-shot SH comics (Among the Damned, Paint it Black and The Grinning Man) which were later collected into a single trade paperback collection.
Silent Hill: Among the Damned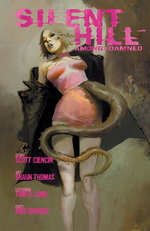 Release date: 2004.10.24
Interior art: Shaun Thomas
Cover art: Ashley Wood
ISBN: 1-932382-58-5 / 978-1-932382-58-7
It is a story of a young soldier suffering from survivor's guilt who follows into the darkened confines of Silent Hill. There, he will meet a doomed soul that will change his life forever... or end it.
Silent Hill: Paint It Black
Release date: 2005.02.23
Interior art: Shaun Thomas
Cover art: Nick Stakal
ISBN: 1-932382-65-8 / 978-1-932382-65-5
Painter and semi-professional slacker Ike finds his dark muse in the mist-enshrouded, monster-infested reaches of Silent Hill. Then the sexy, survivalist-trained, gun-toting cheerleader Cheryl and her teammates arrive to rock his world. Creatures attack, cheerleaders disappear, and the gloves come off! Will anything survive?
Silent Hill: The Grinning Man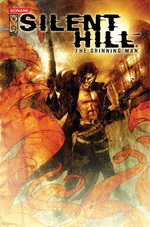 Release date: 2005.06.08
Interior art: Nick Stakal
Cover art: Ben Templesmith, Alex Garner
ISBN: 1-932382-66-6 / 978-1-932382-66-2
For ten years, State Trooper Robert Tower has patrolled mist-enshrouded Silent Hill and never seen its nightmarish, demonic creatures. But now the gun-slinging double-barreled terror known as the Grinning Man has arrived. Horror is unbound and innocents caught in its explosive crossfire. For Tower, it's going to be a HELL of a last day.
Silent Hill: Three Bloody Tales
Gallery
Sketch Covers (Ashley Wood)