Information
Silent Hill 3
| | | |
| --- | --- | --- |
| | | |
| 2003.05.23 | 2003.07.03 | 2003.08.05 |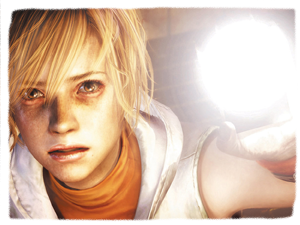 Heather awakens from a terrifying nightmare to find herself at a fast food restaurant called Happy Burger. She calls her father to inform him she'll be home soon as man in a brown overcoat observes her.
Annoyed by his presence, Heather says her goodbyes and frees up the phone, but the man wishes to speak with Heather instead. He introduces himself as Douglas Cartland and explains that he's a detective. Someone would like to speak to Heather about her birth and needs just half an hour of her time.
Suspicious of him from the start, Heather declines and slips into the nearby ladies' room to escape her follower, and there begins a long journey reconnecting Heather with her mysterious past, which is uncovered along the way.
Trailer
Interviews
Downloads