Information
Silent Hill 4: The Room
| | | |
| --- | --- | --- |
| | | |
| 2004.06.17 | 2004.09.07 | 2004.09.17 |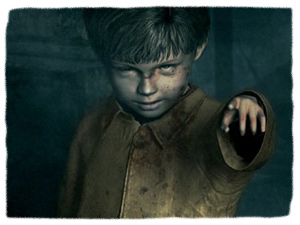 Two years ago, Henry Townshend moved into Room 302 of South Ashfield Heights, an apartment building in Ashfield, a neighbouring town of Silent Hill. Since then, he has lived a normal life, although there are no signs that he has a job. However, five days ago, Henry began having a recurring dream each night. He could not leave Room 302. The door is chained up and the doors a sealed shut; also, no one is able to hear him from outside even when he screams or makes banging noises.
A message written in red on Henry's front door reads, "Don't go out. Walter." Henry begins to find Red Diary editions, who turn up to be from a man by the name of Joseph Schreiber, a journalist who lived in Room 302 before Henry. On the sixth day, Henry discovers a large hole in his washroom. Could this be the way out?
Trailer
Interviews
Downloads
Silent Hill 4: The Room PC Trial Version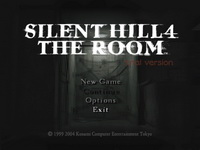 PC demo version of the game which includes the prologue and the Subway World.
Silent Hill 4: The Room PS2 E3 2004 Trial Version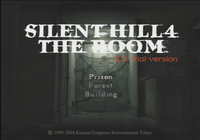 PS2 demo version of the game from E3 2004 which includes the Prison World, the Forest World and the Building World.