Characters
Letter from Silent Heaven
On James' journey through the town of Silent Hill he'll encounter a few other people trapped in their own problems of circumstance. This selection goes over their character profiles and backgrounds. For in-depth analyses of each character once you have completed the game (to avoid heavy spoilers), visit the Plot Analysis section.
James Sunderland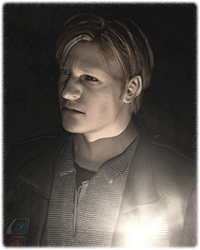 Age: 29
The main character of Silent Hill 2, James has yellowish-green eyes and blonde hair. Normally he works as a clerk for a small company and mostly keeps to himself. He is also fairly quiet and doesn't like to talk about himself. He is known to have a short temper and isn't much for humour. James was a loving husband until his wife Mary was stricken with a rare and fatal disease with no chance of survival. Three years later he receives a letter from Mary, beckoning him to their sanctuary of memories, the town of Silent Hill.
While James occasionally shows emotion and also naivety, he is still a very hard character to read. But over the course of the game you may start to notice patterns in his behaviour that help explain that he's rather caring in nature and has built up a lot of emotion regarding his past with Mary. His desire to find his wife overcomes every single other concern on his journey.
Mary Shepherd-Sunderland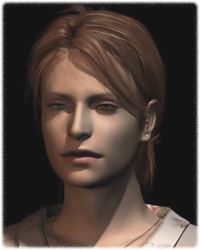 Age: 25
James' sweet and loving late wife who died three years ago, Mary had brown hair and hazel eyes. Originally a cheerful and kind person, her rare disease completely transformed her character (understandably) into one of anger, despair, and bipolarity. In her sickbed she cried that she didn't want to die, yet at the same point she hoped for death. She told James to abandon her because she became ugly and useless, but she also wanted him at her side until the very end.
The disease naturally brought out the worst of her character, but inside she was always a truly loving and caring woman, counterbalancing James from his more surly nature. Three years after her death from the unknown disease, James receives a letter from Mary, calling him to their "special place" in the town of Silent Hill. Defying logic and reason, emotion wins out and he visits the town in search of his sweetheart.
Angela Orosco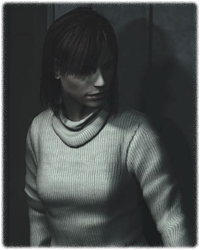 Age: 19
Of brown hair and brown eyes, Angela is a very lost and confused soul. James initially meets this teenager in a graveyard on the way to Silent Hill, where she explains that she's looking for her mother. Lacking confidence, she trembles and easily gets confused while talking to James. Coming from a troubled childhood, Angela ran away from home before her father brought her back. Still unable to cope with issues at home, she ran away again but this time wandered off to the town of Silent Hill. On James' journey and piece by piece, he will uncover her tragic story.
Eddie Dombrowski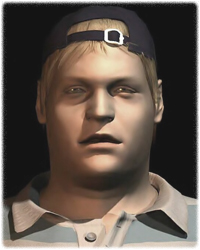 Age: 23
James initially finds Eddie in a rather precarious situation inside the apartments, puking his guts out into a toilet. Eddie has blonde hair, grey eyes, and is overweight. His regular job was working part-time as a gas station attendant, but he reveals to James that he's not from Silent Hill. In several encounters, Eddie is very deflective in trying to avoid any responsibility for events occurring around him. While he may sound truthful during the first meeting, James will slowly uncover the trail of lies and deceit during Eddie's descent into madness.
Laura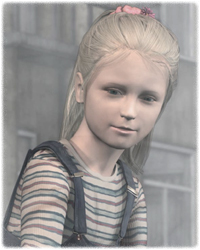 Age: 8
This young little girl clearly holds a sharp grudge against James, yet he has no idea who she is. Having blonde hair and blue eyes, Laura grew up in an orphanage without siblings or parents. She is restless, runs from place to place, and has no problem traversing Silent Hill's dangerous streets on her own. She continues to create speed bumps for James and behaves very much like a little brat, but perhaps she knows something we don't. After all, she reveals she knew Mary, which certainly makes James want to talk to her despite being very elusive.
Maria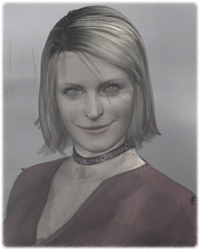 Age: 25
Very much the enigma of Silent Hill 2, James meets Maria in Rosewater Park while initially confusing her for Mary, but within reason. Maria could be the twin sister of Mary in terms of looks, but she is much less reserved in terms of her dress and behaviour. A natural brunette, Maria has blue eyes and dyed blonde hair with red tips. Without telling James directly, she appears to be an exotic dancer who worked at Heaven's Night. Maria can be cheerful and positive but also a sarcastic tease, having a wilder and naughtier side.
Upon meeting James in the park, Maria decides to accompany and help him find his wife, but there's certainly something very strange about her. Although James doesn't catch it, she knows his name without him saying so, and she may know even more than she lets on.
Born from a Wish
This is a short scenario that only contains two characters, but it also allows use to get a more in-depth understanding of Maria and her origin, along with an entirely new character.
Maria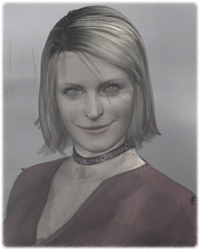 Evidently, Maria worked at Heaven's Night as a dancer up until a disaster seemingly hit the town. All alone upon waking, she is desperate to find another human face. In this scenario we really get to witness a more emotional and fearful side of Maria, along with the truth behind her origin and purpose. After deciding to fight, Maria sets off into town in an effort to find another human. She brings a loaded revolver, and if one were to check the chamber they'd realize what she was truly contemplating before her journey.
Ernest Baldwin
The owner of the Baldwin Mansion on Munson Street, Ernest is the first person Maria comes across Silent Hill. Although Ernest hides behind doors and we don't get to meet him face to face, we get the sense that he is highly-educated and intellectual. This becomes more apparent as Maria progresses through the mansion, but she also uncovers the heartbreaking tragedy of his young daughter Amy. He reveals that he's never been the same since then. Otherwise, Ernest mostly remains rather matter-of-fact until he realizes that he and Maria share something in common, upon which he requests a favour and offers some words of wisdom before Maria learns his hidden truth.