Information
The Making of Silent Hill 2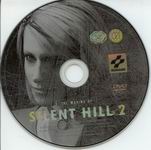 This bonus DVD came with the European PS2 edition of Silent Hill 2. The main attraction of the DVD is of course the making of video itself. The DVD also contains some additional Silent Hill 2 materials like trailers, creators' brief biographies and an art gallery as well as some promotional game trailers from Konami.
Contents
Making of Silent Hill 2
Making of Silent Hill 2 featurette filmed by the French company Fun TV. English and French languages are available.

MAKING OF SILENT HILL 2 (english/french) (32:29)
Trailers
Various Konami PS2 games trailers:
AGE OF EMPIRES 2 (1:07)
METAL GEAR SOLID 2 (9:05)
PRO EVOLUTION SOCCER (2:43)
SHADOW OF MEMORIES (3:24)
SILENT HILL 2: E3 (5:46)
SILENT HILL 2: TOKYO GAMES SHOW (7:49)
SILENT HILL 2: PRESS EVENT (6:41)
SILENT SCOPE 2 (1:35)
X GAMES SKATEBOARDING (1:10)
Z.O.E (5:13)
Art Gallery
Slideshow consisting of 34 Silent Hill 2 pictures (screenshots, renders, arts and sketches) shown while "Theme of Laura" from SH2 OST plays. Also starts after some time of inactivity in the menu.
Biographies
Brief biographies of Silent Hill 2 creators:
IMAMURA producer
SATO cgi director
YAMAOKA sound director
TSUBOYAMA director
OWAKU scenario writer
ITO art director
MURAKOSHI drama director
Credits
List of DVD creators.
Bonus
Secret clips.
CASTLEVANIA CHRONICLES - DIRECTOR INTERVIEW (6:02)
Interview with the director of Castlevania Chronicles. You need to press up in the main menu - Laura's face will light up - and then select it. You will enter a hidden section from which you'll be able to watch this video.
SILENT HILL 2 EVENT JUILLET 2001 (3:05)
This video is about 2-day event for journalists from various game magazines held by Konami in France at releasing Silent Hill 2. To watch it you need to press up in the "Biographies" menu - Silent Hill 2 logo will light up - and then select it. The video will launch then.
Videos
Silent Hill 2 Event Jullet 2001